Extreme Road Trip
Get the Extreme Road Trip OST from the right-hand sidebar!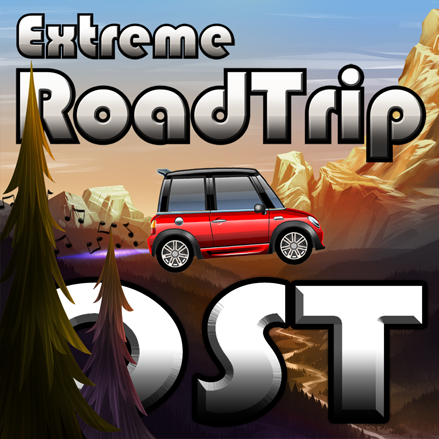 Hello friendly surfer! Thanks for showing interest in the Extreme Road Trip OST.
The soundtrack is a zipfile and consists of 2 main songs in both HQ 320kbps MP3 and lossless FLAC format; the main theme and the in-game song. I have also included a version of the main theme which was designed for bass-less handhelds, and there is a secret bonus too!
You can preview (almost) all of it at my
bandcamp
page.
Tweet, G+, FB, etc! Tell a friend! :)
After purchase, click this button to start the download:

You can use Paypal or a credit card.
Feel free to drop me a mail (souleye@gmail.com) from the buyer email address if anything goes wrong, or you have questions. I handle all emails personally.
The file is ~51 megabytes and includes both MP3 and FLAC versions of all songs.
You get signed up to my very infrequent non-spammy newsletter when buying something.
The original soundtrack for Extreme Road Trip will only be released as a digital download.
---
Here's what some people have been saying about the ERT music:
Adam Atomic (of Canabalt fame) called the music "Perfect".
Jimmy Hinson (of Mass Effect 2 fame) called it "superfun music".
Cheers mates!
"The music makes this app worth a download under any circumstances. It sounds like a lost track from the early days of Mega Man... it's downright exquisite."
--- Jim Squires, Gamezebo (
Link
)
"The music is absolutely sublime"
--- Lewis Curdie, mobot.net (
Link
)
(Being a non-native english speaker, I had to look up what "sublime" meant. Here's what wikipedia said: "In aesthetics, the sublime (from the Latin sublimis) is the quality of greatness, whether physical, moral, intellectual, metaphysical, aesthetic, spiritual or artistic. The term especially refers to a greatness beyond all possibility of calculation, measurement or imitation." - Not bad!)
"Top it off with music from SoulEye, and you've got yourself a winner!"
--- Michael Rose, Indiegames.com (
Link
)
Thanks for your support!
Note that the transaction will happen in swedish currency, hence the "~" sign and "weird" numbers etc on the right side.

---
---
Special offer!

For all you twitter users, you can



And spend no money at all to get the soundtrack!

---

The content is the same in all choices - you will get both the songs, PLUS a secret bonus!