Adventure
Get Adventure from the right-hand sidebar!
Hello friendly musical surfer! Thanks for showing interest in my music.
This is the album called Adventure.
Choose between a quick download or an actual CD printed in beautiful color!
The soundtrack is a zipfile and consists of 20+ songs. Over an hour worth of music...
...and a secret bonus or two!
The tracks Piercing the Sky and Pacing Energy that were introduced with VVVVVV version 2.0, and the remix of Predestined Fate that is on the 3DS version of VVVVVV is also on this CD!
A LOT of love and work has gone into these songs! You can preview all but the bonus content right here:
The MP3 zip is encoded in 320kbps mp3 format and ~170 megabytes.
The FLAC zip is ~530 megabytes.
The zip containing both of them is ~700 megabytes.
When you purchase anything from here, there is no middle man like with Amazon, Spotify, Itunes and the like who take a cut of your money before it reaches me. This means that you DIRECTLY support me in my quest to make the world a little more fun for your ears -- and handing me money is the best way to help me make more music for you! :-)
I would like to thank the following for all they've done for me that has helped me directly or indirectly related to this release:
Kevin Ghadyani (
Pulsen
)
Terry Cavanagh (
VVVVVV
)
Elijah Lucian (
Web hosting services
)
José Felix (
Video editing
)
Deltamike (
Artwork
)
Jokke Sommer (
Flying stunts
)
MANvsGAME (
Trailer voice acting
)
Brent Kennedy (
Piano awesomeness
)
Chris Geehan (
Bitejacker OST
)
Danny Baranowsky (
Super Meat Boy OST
)
Daniel Rosenfeld (
Minecraft OST
)
David Scattle (
Friend
)
Franklin van Uden (
Friend
)
Gryzor87 (
Hydorah OST
)
Jimmy Hinson (
Imposter Nostalgia
)
Jonathan Holmes (
Destructoid
)
Mattias Häggström-Gerdt (
Cobalt OST
)
Roger Hicks (
Zelda 25 Year Legend
)
I hopefully got all of you mentioned there. If you feel left out, let me know!
Thanks to you all for your support!
---
Here's what some people have been saying about Adventure:
"F*CKING AWESOME ... Souleye's new album is certifiably incredible."
--
Jonathan Holmes, Destructoid
"Every time I hear Positive Force, my mind is sent into this wildly happy sugar-epileptic fit"
--
Patrick Gann, Original Sound Version
"I think this particular album has a special place in many gamers' and indie gamers' collective hearts ... I'm certainly enjoying what I'm listening to."
--
Geoff Gibson, diygamer
"Finally got around to listening to @MPSouleye's new album, and as you'd expect, it's a stonker"
--
Michael Rose
(writes for Indiegames.com, personal opinion from twitter)
"Adventure hits all the right notes and then some"
--
Jesse Gregory, Wingdamage.com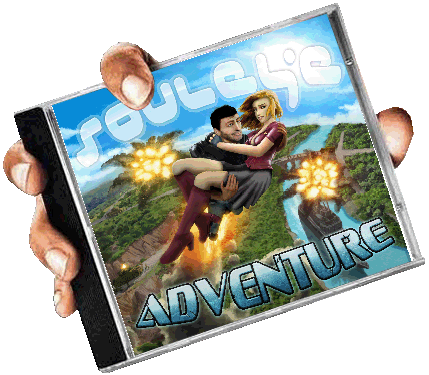 Get your Physical CD ($10 plus shipping) For a signed copy, drop me an email and WAIT before purchasing a CD!


---
Instant Digital Download:
Choose your awesome... IMPORTANT: Keep the Paypal page open! You have to click the button to return to "Souleye Digital Music" from Paypal to actually get your download! All options have identical content. You can use Paypal or a credit card.

You get signed up to my very infrequent non-spammy newsletter when buying something from me.

Feel free to drop me a mail from the buyer email address if anything goes wrong, or you have questions. I handle ALL emails personally.